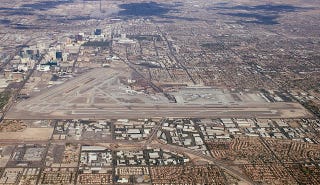 Las Vegas McCarran International Airport (LAS) is doubling international gates in anticipation of increased demand, one of which will be large enough to accommodate the Airbus A380 superjumbo. But the airport is marching towards its capacity and there's no more room to expand. What does the future of air travel into Las Vegas look like?

Las Vegas McCarran International Airport can't expand in any direction.
If you've never flown to Las Vegas (sure, of course you haven't) you may not know that the city's main airport is surrounded on all sides by development. To the west, the airport shares a border with the Mandalay Bay and Luxor hotels and casinos. To the south, the there's the Las Vegas beltway (I-215). To the north lies the University of Nevada-Las Vegas (UNLV). To the east, there's a cemetery, two schools and a large business park. The airport is effectively boxed in, with no physical space available to construct new new runways, terminals for passengers or cargo or aircraft maintenance facilities.
With this in mind, the newest round of construction at McCarran will require existing development to be converted into space for seven new international gates. This underscores the ever-increasing demand for space at McCarran. By doubling the current number of international gates from seven to 14 and providing enough room at one of the new gates for the oversized Airbus A380 to operate (A380 flights can't currently serve McCarran because the infrastructure wasn't designed to handle the massive jets) the airport seizes an opportunity to welcome additional international visitors on each arriving flight. Accompanying this work is the rehabilitation of main runway 25R/7L which began in November 2015.