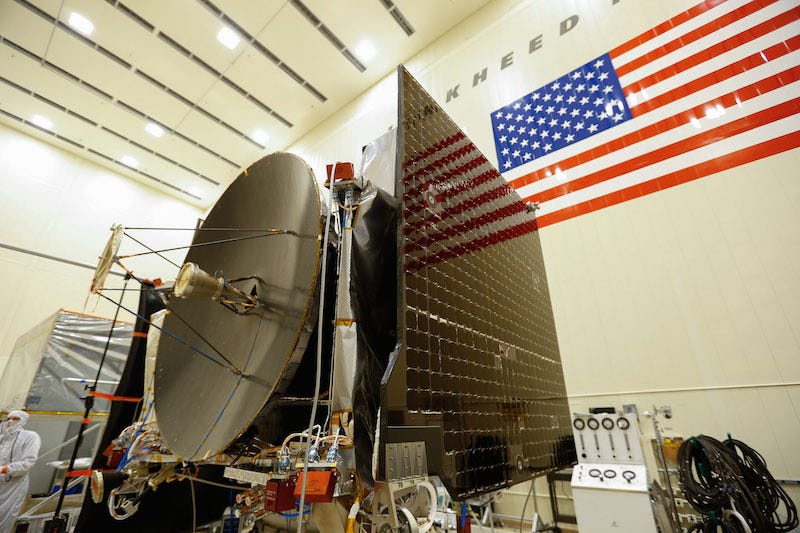 "The first trillionaire there will ever be is the person who mines asteroids." This quote by Astrophysicist Neil deGrasse Tyson posits that asteroids are more than just dinosaur killers—they're the real estate market of the future. We're still a few years away from seeing such fortunes made in the heavens above and beyond our home planet, but future land barons of outer space will trace their riches to a robotic spacecraft launching this September. That's when NASA's OSIRIS-REx mission is scheduled to launch, with the aim of collecting a sample from an asteroid and returning it to Earth in 2023.

(Full Disclosure: I was selected to attend the OSIRIS-REx NASA Social earlier this Spring and self-funded the entire trip from my home in Los Angeles, California to Lockheed Martin's facility in Littleton, Colorado. Lockheed Martin were amazing hosts and served NASA Social attendees a delicious lunch in their employee cafeteria. They also hooked us up with some very cool stickers.)

If successful, OSIRIS-REx will return only a tiny sample to Earth, but what that sample will represent is immeasurably greater than a few dozen grams of sweet, sweet regolith. OSIRIS-REx is a critical step forward in our spacefaring future, as illustrated by the mission's objectives: Reveal information about the solar system's early history, help to mitigate asteroid impact hazards, enable a future human mission to an asteroid and develop interplanetary commerce. By any measure, those are four giant leaps—truly massive aspirations for a robot spacecraft barely taller than an NBA player.

Before we jump into the really good stuff about this mission, let's first review some basics by clarifying what an asteroid actually is.
From NASA:
Asteroids, sometimes called minor planets, are rocky remnants left over from the early formation of our solar system about 4.6 billion years ago.

Most of this ancient space rubble can be found orbiting the sun between Mars and Jupiter within the main asteroid belt. Asteroids range in size from Vesta - the largest at about 329 miles (530 kilometers) in diameter - to bodies that are less than 33 feet (10 meters) across. The total mass of all the asteroids combined is less than that of Earth's Moon.
So, "asteroid" is used like a catchall term for objects that are absolutely massive, others that are quite small and basically everything in-between. Asteroids are found in many different shapes, particularly in small ones which commonly look like a cigar or dumbbell. And just what are they made of? I thought you'd never ask...
From NASA:
The three broad composition classes of asteroids are C-, S-, and M-types. The C-type (chondrite) asteroids are most common, probably consist of clay and silicate rocks, and are dark in appearance. They are among the most ancient objects in the solar system. The S-types ("stony") are made up of silicate materials and nickel-iron. The M-types are metallic (nickel-iron).

Think of asteroids as the leftover stuff that didn't accrete into planets, comets or the Sun when the solar system formed—that is, when a huge cloud of gas and dust started spinning around, possibly as the result of a nearby supernova. Today, most asteroids exist in the asteroid belt (a region of space between the orbits of Mars and Jupiter) with a smaller concentration in the Kuiper belt at the outer edge of our solar system.
Let's also review some basic vocabulary. When an asteroid enters the atmosphere, it's called a meteor. If there's anything left of that meteor when it impacts the planet's surface, it's called a meteorite. In the picture above, I must've been so overcome with excitement to be holding an actual meteorite that I goofed on the caption and called it an asteroid. Try not to make the same mistake as me because I'm still losing sleep over it.
Now, as for OSIRIS-REx, let's start with the most obvious question: OSIRIS? REx? What does that even mean? Here's what the name stands for: Origins, Spectral Interpretation, Resource Identification, Security - Regolith Explorer. This is what NASA means by those terms:
From NASA:
O - Origins

Return and analyze a sample of a pristine carbon-rich asteroid to study the nature, history and distribution of its minerals and organic material.

SI - Spectral Interpretation

Define the global properties of a primitive carbon-rich asteroid to allow for direct comparison with existing ground-based telescopic data for all asteroids.

RI - Resource Identification

Map the global properties, chemistry, and mineralogy of a primitive carbon-rich asteroid to define its geologic and dynamic history and provide context for the returned sample.

S - Security

Measure the Yarkovsky effect (a force caused by the emission of heat from a rotating asteroid that can change its orbit over time) on a potentially hazardous asteroid and learn which asteroid properties contribute to this effect.

REx - Regolith Explorer

Document the texture, morphology, geochemistry, and spectral properties of the regolith (surface material) at the sampling site.
But wait, there's more! The meaning of the OSIRIS-REx name goes even deeper. The name was also chosen because of the connection to ancient Egyptian mythology. Just like the Egyptian deity Osiris is associated with the spread of agriculture throughout the Nile River, OSIRIS-REx "seeks to return samples of a primitive asteroid that may contain the 'seeds of life' that led to the origin of life on Earth."
Oh, and it also has one of the coolest mission patches I've seen in a very long time. Just check out this tweet (above) from Matt King, a Senior Systems Engineer with Lockheed Martin.
The History of OSIRIS-REx
Even though sample return missions are nothing new, it has taken well over a decade for the stars to align for a U.S. asteroid sample return mission to come to fruition. The OSIRIS-REx mission's concept was originally proposed under NASA's Discovery Program (a class of lower-budget missions designed to explore the Solar System, each led by a Principal Investigator from academia) in 2004 by the late planetary scientist Dr. Michael Drake of University of Arizona's Lunar and Planetary Laboratory (LPL). Dr. Drake, who passed away in 2011, was among Earth's preeminent extraterrestrial geologists and dedicated his career to advancing our understanding of life's origin story.

In 2006, NASA selected the OSIRIS-REx concept for further review (then known simply as OSIRIS). The mission concept was further refined over time was eventually chosen for additional review under NASA's New Frontiers Program for "medium-class" spacecraft in 2009. The New Frontiers Program proved to be the right home within NASA for the ambitious OSIRIS-REx proposal, as it's scope and budget proved to be excessive for the aforementioned Discovery Program. While Discovery Program budgets are capped at $425 million, the estimated $800 million OSIRIS-REx budget is comparable to its New Frontiers stablemates New Horizons (estimated total cost = $700 million) and Juno (estimated total cost = $1.1 billion).